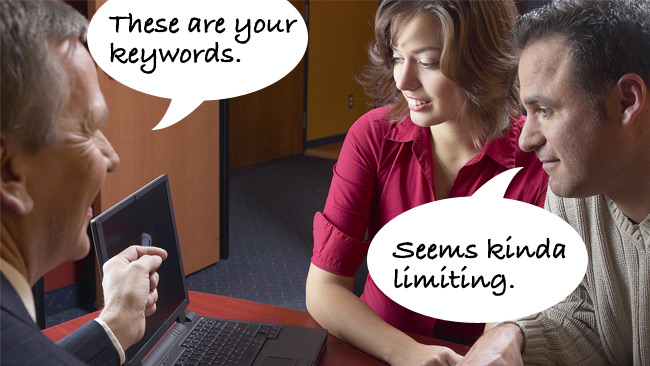 Sorry to burst your bubble. Your keywords don't matter anymore. Stop obsessing over them and move on. You're behind and need to catch up with the rest of us. Ready? Let's go.
Inadvertently, you've been limiting your business all these years. Yes you, the business owner, marketer, entrepreneur. Whatever you may call yourself. By thinking in terms of keywords, you've missed out on reaching potential customers. This rigid thinking must end. You'll do so much better at promoting your business online, if you start concentrating on these three areas:
Increasing Creative Output
Because social signals (likes, shares, retweets, plus ones, etc.) are increasing in importance, pursuing the viral aspect of a social network will help spread the word by none other than your loyal fans, aka your customers.
We've all heard about the effectiveness of video, but that's not the only shareable content you have. PowerPoint presentations can be repurposed on SlideShare and find new life on LinkedIn. Pin high quality images on Pinterest and capture the eye of interested parties. Inform as well as entertain your audience by showcasing data and statistics through the use of infographics.
Embracing the Semantic Web
No, not satanic. The Semantic web supports "a vision of information that can be readily interpreted by machines, so machines can perform more of the tedious work involved in finding, combining, and acting upon information on the web." Basically, it provides context upon which the technology at hand can better interpret, who, what, where, when, how and why.
Google has begun pushing forward the semantic web by positioning Google+ as the successor of Facebook. You've seen a bit of it as more and more Plus profiles are showcased in your search results. Bing has even countered Google by incorporating Facebook elements in its search results.
Supporting Responsive Design
A growing movement among marketers and designers is the use of responsive design, "which consists of a mix of flexible grids and layouts, images and an intelligent use of CSS media queries." The movement is in response to the growing mobile market pushed by the development of the smartphone and the tablet.
Now, a separate mobile version of your website is one way of addressing multiple device needs. Of course, device specific design requires multiple designs and twice the amount of time. Eventually with responsive design, web design companies will be able to develop it once and let the device determine the best layout. Though obstacles still exist when implementing and not all websites work well with responsive design, the technology will grow and the benefits will eventually outweigh the negatives.
There you have it. Three simple and necessary marketing tactics for a more successful online presence.
If you have questions about increasing the value of your website investment, please contact a Website Advisor today at 702-312-9444 within Las Vegas or Toll Free outside of Las Vegas at 888-221-8640.