"I would rather have a mind opened by wonder than closed by belief."
- Gerry Spence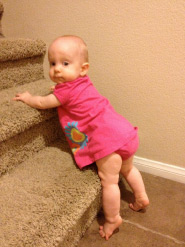 I've written before about how having children is one of the best opportunities to reflect on what our world was like before we learned about fears and boundaries. This blog isn't about staring death in the face or disregarding the laws we have in place, but rather it's more about letting go of what you think you already know and pursuing something you believe in regardless.
There seems to be a lot of "tried and true" aspects in business, as well as a lot of "what not to do." The challenge is, how do you know if that's relevant in your own business? Email marketing may be successful for some, but not for others. The same applies to billboards and television commercials, or even certain business practices like refund policies and hours of operation; what may work for some may not work for others. The point is that, until you try something and rule it out, you never really know how it will factor into your business.
As always, what we apply in our professional lives can also prove valuable in our personal lives. It's not uncommon to second-guess an idea or initiative because you feel you already know what the outcome is going to be. What if you were wrong? The tricky part is that you'll never know for sure without seeing it through, but you can be certain that if you never pursue it in the first place, then nothing will happen at all. Imagine what we could accomplish if we didn't already think we knew the result. When my 10 month old daughter climbed our entire flight of stairs (while I closely followed her), I couldn't believe she made it! She never knew she wasn't supposed to do that yet, so it wasn't as much of a surprise for her!
The next time you decide not to pursue something because you feel you already know the outcome, give yourself a chance to prove a different result.