"The ones who make it see the difference between what is and what can be."
- Kobi Yamada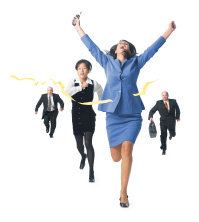 It's always fascinating to me to see the difference one's attitude makes in the outcome of their efforts. I have the opportunity to witness regularly what a positive attitude and what a negative attitude does to contribute to the success or failure of one's efforts. I'm a little more even keel when it comes to attitude, choosing to not get too excited or too let down by day to day activities, but that's certainly not the case for many. The quote above is a great way to logically explain this emotional factor of the fragile frame of mind.
It's rare to see businesses grow and succeed long-term when only focussing on what currently exists. It takes foresight and guts to push for what can be and not just stick with the status quo. There are always exceptions to the rule, but the truly great businesses have been innovative thinkers and have pushed to do what has never been done before. Naturally, there are those who have thought outside of the box to the point of failure, but many would likely argue that you only truly fail if you never try at all. Don't be afraid to reach a little further in your business or your career to try and achieve what can be.
It's not unlikely that pushing for what can be in your professional life will directly impact your personal life. This is especially true with attitude and frame of mind in general. If you're unmotivated and bored at work, then you'll likely carry that through to your home life. If you put yourself in a positive frame of mind, that positivity will carry over in all aspects of your life. I've witnessed family members go from nothing to everything, more than once, with simply a change in attitude - no change in skill set, no change in support, just plain attitude that directly affected their motivation and willingness to work hard.
Don't limit yourself to what is. Think about what can be and work hard to achieve it.
Jeff R. Helvin is Blogging for Balance - a balance of both personal and professional aspects, to ultimately achieve more in life overall.