"Your biggest competitor is your own view of your future."
- Watts Wacker & Jim Taylor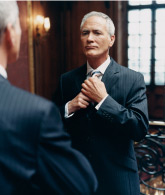 For as long as I can remember, people have come to me to listen to their challenges. It turns out I'm considered to be a good listener. This is likely because I'm not quick to judge or criticize, or even offer advice. Don't get me wrong, I have a lot to say, but I typically reserve those words until I'm asked for feedback. I'm by no means a psychologist or have any kind of degree that qualifies me as such, but I gather most of my thoughts by assessing those that are around me and freely share that information and insight with anyone who wishes to hear it. One common theme I've found among those that are struggling is often the challenges that they impose on themselves.
As a business owner of a company that operates in the very progressive internet industry, it's made evident to me every day that there isn't much one can't achieve. The digital world we live in is proof every day that only more amazing things are in store for our future. A challenge that many professionals face is their own limitations imposed on themselves. Your biggest competition is likely not other companies that compete in your market or other people that stand in your way for advancement, but rather your own view of your future. If you refuse to accept the fact that where you are today is as far as you'll go, then you are no longer competing with yourself! That's not to say that there won't be many obstacles along the way, but if you don't consider the possibilities, then it's likely you'll never achieve them.
Along with seeing a bright future of limitless possibilities for my business and my career, I see the same thing for me personally. I continue to operate under the assumption that there is more happiness, more experiences, more love and overall more success for myself and my family than what I'm already fortunate enough to have achieved. I credit that attitude to not accepting the thought of anything less. In my mind, my future consists of my daughters in college focussing on their education and setting the foundation for their future success, while my wife and I travel and explore new heights of our relationship touring the states and other parts of the world we wish to visit. A little further out has us enjoying being grandparents that play an active role in our branching out family, while in our spare time enjoying the beautiful environment around us from our beach house. Only time will tell if that's how my future will really turn out, but I'm making sure to not stand in my own way by expecting anything less.
Don't be your biggest competitor by underestimating yourself or what you can achieve. Visualize a better future and keep working hard to make it there.