(02/04/2013) Mark A. Cenicola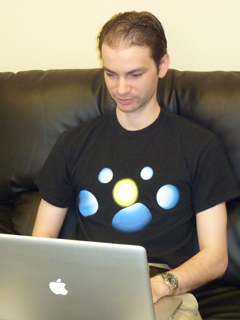 A few years ago I left the comfort of my desktop computer and started using a laptop exclusively. Shortly thereafter, I asked myself the question, "If I don't need a desktop computer, why do I need a desktop?"
That's when I made the decision to forgo my desk and instead, put a couple of couches and a coffee table in my office. I went from sitting at a desk all day to sitting on the couch. Not much of a move, but it was a little radical to spend my day on the couch with a laptop as opposed to at a desk with keyboard and mouse.
I wanted to see if it changed the way I conducted my daily activities and if there was a noticeable difference in my work. Beyond the fact that when people asked what I did for a living and I told them I sat on a couch, I actually was very productive. Having the hard surface of a coffee table to put the laptop down, write and talk on the phone was useful. I don't think I could have completely gone without a hard surface.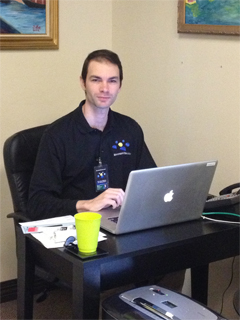 Therefore, the coffee table was really a crutch back to when I had a real desk. After doing this for more than a year, I decided it was time to go back to a desk; not a big desk, but nonetheless, a desk. In fact, it's the smallest desk in my entire office and the smallest I've ever worked on before.
Trying to simplify my life to be open to new possibilities, I eliminated much of what I used to have on a desk so going with a smaller desk wasn't that big of an issue. However, I still wasn't satisfied sitting down all day; whether it was on the couch or at a chair in front of a desk.
The Standing Desk
Back in college in my network engineering class, the instructor had a large work table in the lab. It was used to disassemble computers and perform various other activities that required tinkering with hardware, rebuilding computers and changing out components relatively quickly. It was a standing workbench with plenty of room to spread parts out all over the place. The fact that you were standing was a productivity booster as you could move around much more quickly. Sitting would have required more work.
Ever since those college days, I missed that lab and that workbench. It just felt much more productive and collaborative when working with others while standing at the workbench.
Recently, there's been a trend toward standing desks, especially when organizations like the American Cancer Society release studies showing that sitting can increase your risk of death.
After reading about others who've made the switch, I decided maybe that's what I've been missing. Before I founded BannerView.com, past jobs required a lot of physical activity. I figured why not give a standing desk a try? As an entrepreneur, sitting still doesn't come naturally unless I'm working on a task that requires intense focus.
Building the Standing Desk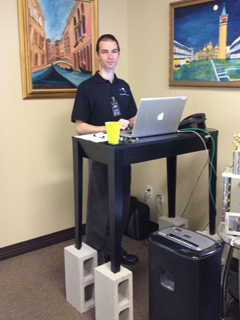 Like most new ideas, the best way to see if they are any good is to try them. Halfway through the day last week, I decided to convert my sitting desk into a standing desk. After taking a few measurements and trying to figure out the best height, I went to Home Depot and bought some cinderblocks to prop up the desk. And then, presto! Standing desk.
Some places are selling standing desks for more than a thousand dollars. My desk originally cost less than $100 from OfficeMax at the time. Similar desks are available from common office stores. The cinderblocks were less than $5 total at Home Depot.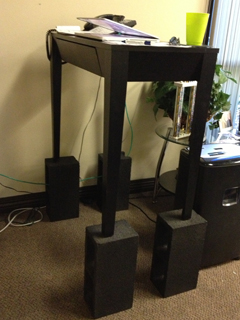 I decided to make the cinderblocks a little more fashionable by painting them black to match the desk and also put a varnish on them since the concrete has a tendency to flake. Total investment was well less than $200 and a little bit of work.
Benefits of a Standing Desk
One of the activities a leader does most is interact with others. From making sales calls to exchanging ideas with staff, standing while doing those things provides more energy to be upbeat. Many sales advice says to stand when making phone calls. I've known this for some time, but rarely stand when speaking on the phone.
Supposedly, standing will also make me more approachable by my team.
After a week into the experiment, my feet started to hurt a little more, but wasn't unbearable. Sitting down now feels like a little treat to myself. Improving my posture as part of standing more is a work in progress.
I find myself wanting to move around the office and visit with the team more often. However, I have to temper that slightly as to not interrupt the staff too much, but ideas and communication flows more freely.
Beyond getting past the awkward feeling when people come into my office and see me standing there, I'm liking the experience. We'll see how long this experiment lasts!
If you could be more productive, more approachable, better at sales and healthier for less than $200 wouldn't you do it? That's exactly what I'm attempting to do by converting to a standing desk.
Whether you have tried a standing desk, are interested in trying it, or think I'm nuts, I'd like to hear your feedback.