(02/19/2013) Mark A. Cenicola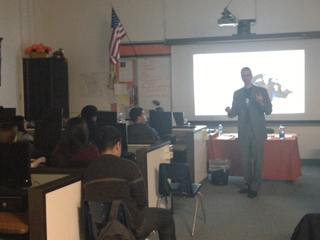 Recently, I had the pleasure of presenting to a group of high school students during their marketing 1 class at Chaparral High School which is located in Las Vegas. I shared with them the fundaments of bringing a company or product to market.
Chaparral, hard hit by a shift in student demographics, is going through a turnaround in an attempt to improve test scores, graduation rates and teacher performance. It's great to see all the hard work and dedication the administration is putting forth in making the turnaround successful. Being able to participate in any way that I could in helping inspire students to be valuable contributors to society was a great feeling. If just one student becomes a successful business owner, they can change the lives of many.
The marketing class consisted of co-ed students in grades 10-12. My public speaking audience is primary adult learners so this was certainly a change from my typical presentations.
I had an odd feeling at the start of class as the students sang the Pledge of Allegiance and listened to the morning school announcements over the intercom. It brought back memories of what it was like to be in high school. It probably wasn't as odd for Akira Hernandez, who assisted me during the presentation, since she's not quite as far removed from high school as I am.
The students were actively engaged, showing their desire to be future potential entrepreneurs. They asked plenty of questions and answered the questions I posed.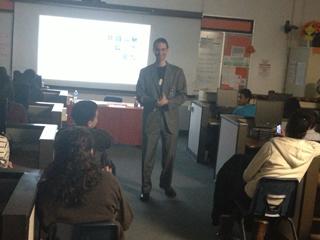 I shared my experiences during the early days of founding BannerView.com and covered many aspects of bringing a company to market, such as the challenges companies face, the market's perception versus reality, and how to find product market fit.
During the presentation I asked how many of the students expected to start their own company at some point. A few shared some of their business ideas. After the presentation a few students approached me, one specifically asking how old you needed to be to start a company. It was very encouraging to see the class's enthusiasm and I believe that there are going to be a few new entrepreneurs coming out of the class at some point in their lives.
I look forward to future community involvement opportunities and hope my fellow entrepreneurs will join me in donating some of their valuable time to teaching students about the realities of running a company.
I did leave the students with a final word of advice when it comes to bringing a company to market, "In business, nothing truly happens until that first sale is made."
"The students are still talking about your presentation.  They learned  that education combined with hard work can lead to a very successful career.  Thank you for sharing your marketing expertise and life experiences." - Shirley Esposito (Job Bank Coordinator at Chaparral High School)