On the Brandwagon



Websites are Dead, Long Live the Website
The telephone, while it continues to become more mobile, is still a significant part of our businesses more than a century after its invention. Websites, like the telephone, will continue to grow in importance to conducting business and will be around for a long time to come.
READ FULL STORY
The Spider Crawls

Facebook: The Next Generation



Originally published 8/26/2009 Last time, I discussed the similarities between the Borg from Star Trek: The Next Generation and Facebook. As the show represents a possible future, this time we look at what the future may hold for the social network and its community of loyal users.

READ FULL STORY
Client Spotlight




All Star Agent Network

"Become Part of the Network"

Imagine, a place where you can send your referrals and have them tracked, receive weekly updates on schedule until the day the transaction closes, and it costs you, the referrer, nothing.

VIEW OUR PORTFOLIO




Friend or Follow Us on your favorite Social Network. You´ll find BannerView.com there providing advice, commentary and the occasional sarcastic remark.



We can help your website generate the business you want. BannerView.com Builds, Promotes and Maintains business websites to maximize your business prospects and revenue opportunities. Give Your Website the BannerView!

COMPUTER FOR SALE
17" Macbook Pro - 2.5Ghz Core 2 Duo
2.5Ghz Core 2 Duo
2.5 GB RAM
Superdrive reads and writes both CDs and DVDs
320GB Hard Drive
Glossy High Resolution Display
Las Vegas: (702) 312-9444
Houston: (281) 968-WEBS (9327)
Denver: (720) 509-WEBS (9327)
Toll Free: (888) 221-8640

SPECIAL REPORT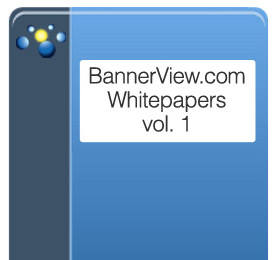 Download a FREE Whitepaper
What Email Campaign Schedules Generate the Most ROI?
Email still remains an effective marketing tool. Find out the best schedule to implement for your campaign.
Find out the best time of day to send emails
Learn which days of the week work best
See how you can increase your revenue per email

eBITS & ByTES
B2B Email Marketers Focus on Targeting Content
Customer acquisition, lead nurturing are top goals
For business-to-business (B2B) companies, email marketing is all about getting the right content in front of the right customers. Customer acquisition and lead nurturing were the most important purposes of email marketing programs among US B2B marketing professionals
- BtoB Magazine