On the Brandwagon



Cavemen Can't Market - A Book Review
Are your marketing efforts stuck in the stone age? Read on to hear my review on Cavemen Can't Market, a new book written by Jonathan Peters, Ph.D and see what you can do to cost effectively bring your marketing strategy to the forefront.

READ FULL STORY
Client Spotlight



Henderson Chamber of Commerce

"We Create Business Synergy"

The HCC offers many great communication tools to assist our members who wish to promote their company news, events, job openings and services. Showcase your business and advertise products and services via our resources.










Friend or Follow Us on your favorite Social Network. You´ll find BannerView.com there providing advice, commentary and the occasional sarcastic remark.



We can help your website generate the business you want. BannerView.com Builds, Promotes and Maintains business websites to maximize your business prospects and revenue opportunities. Give Your Website the BannerView!
SPECIAL EVENT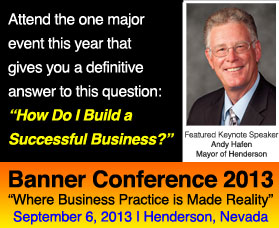 BANNER CONFERENCE 2013
This one day seminar will show you the best practices and share personal success stories from experts in speaking, publishing, branding, and public relations.
Build relationships with the experts as they will be participants throughout the entire event


Build relationships with other attendees just like you who want to improve their business prospects and revenue opportunities
Learn what tools work best at building and promoting a solid online and offline presence for your brand