Write It Down



Originally published 7/20/2011 If you have an idea in your head, it's likely to stay there unless you can act on it right away. One way to act on it immediately is to just get it down on paper.

READ FULL STORY
Client Spotlight




HFN

"Housing for Nevada"

The only nonprofit organization in Nevada that provides comprehensive financial education, one-on-one counseling/case management, and homeownership opportunities through housing rehabilitation and assistance programs.

VIEW OUR PORTFOLIO




Friend or Follow Us on your favorite Social Network. You´ll find BannerView.com there providing advice, commentary and the occasional sarcastic remark.



We can help your website generate the business you want. BannerView.com Builds, Promotes and Maintains business websites to maximize your business prospects and revenue opportunities. Give Your Website the BannerView!

SPECIAL EVENT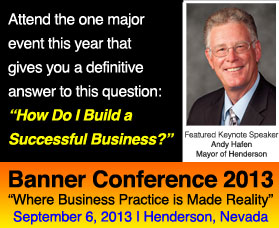 BANNER CONFERENCE 2013
This one day seminar will show you the best practices and share personal success stories from experts in speaking, publishing, branding, and public relations.
Build relationships with the experts as they will be participants throughout the entire event
Build relationships with other attendees just like you who want to improve their business prospects and revenue opportunities
Learn what tools work best at building and promoting a solid online and offline presence for your brand