August 26, 2014 - Las Vegas
Does Humor Help or Hinder a Marketing Campaign?

Think of the last thing that made you laugh. What was it that made you laugh? Now, think of a company or brand using laughs to promote themselves. Do you think that their humorous approach has translated into increased revenue? You might find the answer somewhat…funny.
Are You Missing Out on this Essential Form of Customer Service?
Many consumers have turned to a newer form of customer support due to current social trends. Have a service complaint? Send a tweet. Need assistance with a new product? Facebook message the company or post on the brand's page. Want to show the impact a certain company made? Instagram the event or scene. Everything is going social and now consumers are expecting companies to follow suit.
How to Run a Social Media Contest
There are many different contests that can be run through various social platforms. What are the best practices for these? Which methods are more successful in the promotion of them? Find out here!
5 Ways to Marry Social Media and Email
Email continues to dominate when it comes to generating solid leads, but social media currently gets more attention. Why not employ both to work together to create an unstoppable lead generating, content spreading machine? Find out 5 ways to make it work!


GET A WEBSITE BUILT FOR FREE!
You get a professionally designed website, secure and reliable web & email hosting and unlimited online support absolutely FREE. You even get a 30 day FREE trial of BannerOS, our web content management software.
Learn more

When It Comes to Social Measurement, Corporate Marketers Can't Get It Together

Have corporate marketers figured out social media measurement? Based on April 2014 polling by Useful Social Media, not really. When the study asked corporate executives worldwide—those who said they worked for "brands, end-users and corporations"—if they were confident that they were accurately measuring social media's effect, fewer than 34% of respondents said they were, a percentage that had changed little over the past four years.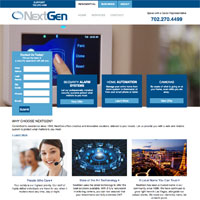 NEXTGEN ALARMS
Committed to excellence since 1998, NextGen offers creative and innovative solutions, tailored to your needs.

Visit their website
Friend or Follow Us on your favorite Social Network. You'll find BannerView.com there providing advice, commentary and the occasional sarcastic remark.




The future has arrived! Website management with BannerOS 2.0 provides business owners with the ability to easily manage their online presence. User-friendly yet powerful, BannerOS is your complete business solution to website success.
Visit www.BannerOS.com to launch your website today!