September 30, 2014 - Las Vegas


GET A WEBSITE BUILT FOR FREE!
You get a professionally designed website, secure and reliable web & email hosting and unlimited online support absolutely FREE. You even get a 30 day FREE trial of BannerOS, our web content management software.
Learn more

Is Organic Better for You? It Is When You're Talking About Site Traffic

When it comes to driving internet users to a website, nothing beats organic search. According to data from BrightEdge, organic search drove 51% of website traffic referrals worldwide during June and July 2014. Meanwhile, display, email and referred search ranked second, with 34% of referrals, paid search third (10%), and social media last (5%). The research monitored data from BrightEdge's Data Cube, so broader industry metrics may vary.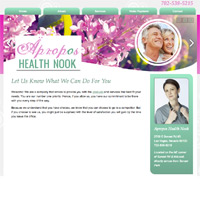 APROPOS HEALTH NOOK
Providing a patient-centered health services to those who need assistance to further their optimal health.

Visit their website
Friend or Follow Us on your favorite Social Network. You'll find BannerView.com there providing advice, commentary and the occasional sarcastic remark.




The future has arrived! Website management with BannerOS 2.0 provides business owners with the ability to easily manage their online presence. User-friendly yet powerful, BannerOS is your complete business solution to website success.
Visit www.BannerOS.com to launch your website today!