November 25, 2014 - Las Vegas
Phil Frost Brings Marketing ROI to Main Street
Marketing and technology continue to evolve. Recently, Brian Mell interviewed Founder & Chief Operations Officer of Main Street ROI, Phil Frost to get his take on the Internet's influence of business and marketing.
The Analytical Artist: A Necessity in Marketing?
Would Mozart have had a difficult time composing music if his manager constantly had him analyze the performance stats of each individual piece? What if Picasso was limited to only Web-Safe Colors, or Hitchcock to under thirty-seconds for a film?
Shaundell Newsome Shares Sumnu Marketing Secrets
Shaundell Newsome of Sumnu Marketing gives insight on developing a successful website presence and online marketing program for a small business.


GET AND GROW YOUR BUSINESS ONLINE
Is your business online? If so, are you happy with your growth? If the answer to both is 'No' then we have the solution. BannerOS can help get you online and turn your website into a powerful business tool.
Take Advantage of Our 30 Day Trial Website Offer
Learn more

When Are Holiday Shoppers Buying This Year?

According to its "2014 Holiday Retail Spending Report," shoppers will spend a larger percentage of their holiday gift-giving budgets over Black Friday weekend, a resurgence largely driven by cost conscious consumers who want more bang for their bucks.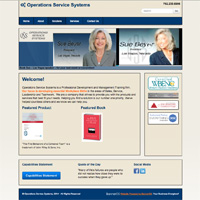 OPERATIONS SERVICE SYSTEMS
Developing essential Workplace Skills in the areas of Sales, Service, Leadership and Teamwork.

Visit their website
Friend or Follow Us on your favorite Social Network. You'll find BannerView.com there providing advice, commentary and the occasional sarcastic remark.




The future has arrived! Website management with BannerOS 2.0 provides business owners with the ability to easily manage their online presence. User-friendly yet powerful, BannerOS is your complete business solution to website success.
Get your Website Powered by BannerOS!