January 27, 2015 - Las Vegas
A Powerful Method for Getting Results from Your Website
Recently, I had the opportunity to meet with a couple of local business owners. In discussing their needs about doing business online, most were not effectively using their website analytics. In some cases, they were aware, but not sure of how to apply the data. That's a shame because a website can be the best tool for building a thriving business.
10 Ways to Use Your Website to Improve Business
As part of our Business Development Series of articles, we contacted the Young Entrepreneur Council (YEC) and posed a couple of questions to their membership. The questions pertain to using a website in the most effective way possible to grow a business. The answers provided can be applied by any business owner or entrepreneur seeking expert advice.
4 Common Misconceptions About What It Takes to Own and Care for a Website
Even if you are a person who still uses the Yellow Pages, imagine how much simpler it would be to open the book and immediately be on the exact page needed, and listing several businesses from which to choose. That's the convenience the Internet offers consumers today.



THE BANNERMETHOD
The BannerMethod is the ultimate guide to helping you succeed with your website!

Are you ready to begin building a strong online presence for your business or organization? If you are, purchase The BannerMethod, the most easy-to-follow plan for strategic online marketing implementation. Learn more

Mobile Apps and Sites May Actually Work Together

Mobile app ads have been found to perform better than those on mobile sites, and other analysis suggests time spent with mobile internet skews heavily toward apps. However, in a December 2014 study by Harris Poll for the Interactive Advertising Bureau (IAB) Mobile Marketing Center for Excellence, US smartphone owners didn't view usage the same way: 33% said they used mobile sites and apps with about the same frequency, compared with 18% who said they spent a significantly larger amount of time with apps.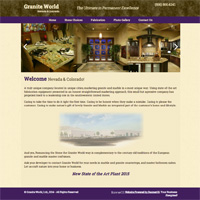 GRANITE WORLD
Romancing the Stone the Granite World way is complementary to the century-old traditions of the European granite and marble master craftsmen.

Visit their website
Friend or Follow Us on your favorite Social Network. You'll find BannerView.com there providing advice, commentary and the occasional sarcastic remark.




The future has arrived! Website management with BannerOS 2.0 provides business owners with the ability to easily manage their online presence. User-friendly yet powerful, BannerOS is your complete business solution to website success.
Get your Website Powered by BannerOS!