February 24, 2015 - Las Vegas
How to Convert Website Visitors into New Customers
Why do people visit your website, only to leave a second later? Why do your social media posts get very little response? Many business owners experience these exact situations everyday. Most do nothing to solve the problem, dooming their business to Internet obscurity. Is that what you really want?
Top 3 Habits of Unsuccessful People & How to Avoid Them
What sets apart those who succeed in business is that they don't adopt certain characteristics or form bad habits that hinder their success. Here's a list of the top habits unsuccessful people have and what you can do to avoid them.
14 Best Practices for Building a Successful Online Presence
Continuing our Business Development Series of articles, the Young Entrepreneur Council (YEC) posed another set of questions to their membership. The question posed discusses the first step(s) in building an online presence. As always, the answers provided can be applied by any business owner or entrepreneur seeking expert advice.
5 Reasons NOT to Hire a Social Media "Expert"
Everyone has an opinion on the right or wrong way to manage your social media efforts and who you should hire to handle it. There are blog posts galore on why and how to hire a social media expert. But what about how and why not to?



THE BANNERMETHOD
The BannerMethod is the ultimate guide to helping you succeed with your website!

Are you ready to begin building a strong online presence for your business or organization? If you are, purchase The BannerMethod, the most easy-to-follow plan for strategic online marketing implementation. Learn more

Why Do Consumers Read Retail Promo Emails?

Email readers most likely to look at recommendations of products on sale. Listrak found that 72% of US internet users opened and read promotional emails from retailers, and age and gender didn't play huge roles in whether or not they did.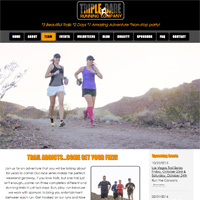 TRIPLE DARE RUNNING COMPANY
If you love trails, but one trail just isn't enough...come run three completely different and stunning trails in just two days.

Visit their Website Powered by BannerOS
Friend or Follow Us on your favorite Social Network. You'll find BannerView.com there providing advice, commentary and the occasional sarcastic remark.




The future has arrived! Website management with BannerOS 2.0 provides business owners with the ability to easily manage their online presence. User-friendly yet powerful, BannerOS is your complete business solution to website success.
Get your Website Powered by BannerOS!