March 31, 2015 - Las Vegas
The Psychology Behind Achieving Website Conversions
With much of marketing getting tied to analytics, it should come as no shock that you've felt like a psychologist at times. Marketing has become more about psychoanalyzing your customer's habits. Knowing those habits is key in successfully catering to their needs.
Spring Into Action! Tips to Spring Clean Your Business
Why not take advantage of this time to assess your business. Use this as an opportunity to make some positive changes. Why not start with your website!
6 Reasons Why Your Website Conversion Rates Are So Low
Conversion rates remain at an all time low, yet it doesn't seem to be a priority for many website owners. Hoping to highlight the issue, I've outlined six reasons why you may be encountering a lack of conversions.
6 of the Best Ways to Stay Motivated
Need to find new ways to stay motivated? Life gets crazy busy and sometimes plans get sidetracked or derailed. When you want to keep pushing but don't know how, it's best to take a moment, reflect and set in motion your personal objectives in getting what you want!


THE BANNERMETHOD
The BannerMethod is the ultimate guide to helping you succeed with your website! Are you ready to begin building a strong online presence for your business or organization? If you are, purchase The BannerMethod, the most easy-to-follow plan for strategic online marketing implementation. Learn more
Learn more

Why Marketers, Agencies Haven't Mastered the Customer Experience

A single customer view is critical to providing a personalized and thus better customer experience. However, the study found that few respondents leveraged these for all marketing activities. Less than one-fifth of respondents (18%) in both groups said they or their clients used a single customer profile for all marketing efforts, vs. 45% of marketers and 33% of agencies who didn't.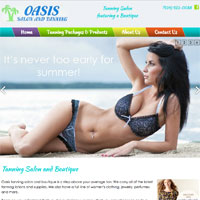 OASIS TANNING SALON & BOUTIQUE
Oasis tanning salon and boutique is a step above your average tan. They carry all of the latest tanning lotions and supplies. They also have a full line of women's clothing, jewelry, perfumes and more.

Visit their website
Friend or Follow Us on your favorite Social Network. You'll find BannerView.com there providing advice, commentary and the occasional sarcastic remark.




The future has arrived! Website management with BannerOS 2.0 provides business owners with the ability to easily manage their online presence. User-friendly yet powerful, BannerOS is your complete business solution to website success.
Get Your Website Powered by BannerOS!