May 26, 2015 - Las Vegas
Research your Competition for Conversions
How much time do you think is invested in pre-launch website research? By the number of websites that I've come across that don't follow any best practices, I'll say, "not much." Why is that?
Vacations Are Important to The Success of Your Business
If you find that you are consistently not using all of your allotted vacation days or worse, skipping vacation all together you are not alone!
Businesses Need to Avoid This Pitfall when Developing Their Mobile Websites and Apps
Remember desktop applications? While still used, mobile app usage surpassed desktop app usage more than a year ago. It's one reason there has been an explosion in companies offering mobile app development, similar to the growth of companies developing websites when Internet usage expanded in the late 1990's and early 2000's.
5 Ways You Can Improve Customer Service with Your Website
Technology offers many ways to connect with customers. Once connected, how can a company maintain that connection and provide great customer service? BannerView.com setup a Q&A with Craig Borowski, Market Research Associate for the online resource serving CRM software buyers, Software Advice to get insight on applying technology to this area of business.


GET A WEBSITE BUILT FOR FREE!
You get a professionally designed website, secure and reliable web & email hosting and unlimited online support absolutely FREE. You even get a 30 day FREE trial of BannerOS, our web content management software.
Learn more
Creepy or Cool? Your Customer Decides

According to April 2015 polling by RichRelevance, creepy is more common than cool. Retailers have a wide array of toys to play with when implementing digital technologies in stores, but figuring out something that makes sense to customers—and fits with the brand—can be a challenge.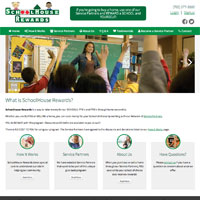 SCHOOLHOUSE REWARDS
SchoolHouse Rewards is a way to raise money for our SCHOOLS, PTA's and PTO's through home ownership. Whether you are BUYING or SELLING a home, you can raise money for your School of choice by working with their Network of Service Partners.

Visit their website
Friend or Follow Us on your favorite Social Network. You'll find BannerView.com there providing advice, commentary and the occasional sarcastic remark.




The future has arrived! Website management with BannerOS 2.0 provides business owners with the ability to easily manage their online presence. User-friendly yet powerful, BannerOS is your complete business solution to website success.
Get Your Website Powered by BannerOS!