June 30, 2015 - Las Vegas
3 Ways Launching a Website Can Immediately Help Your Business
Half of all small businesses currently do not have a website. This is likely to change as it is well known that most people (even you) are using the internet, particularly on mobile devices to search for goods and services. Still unsure? Here are 3 ways you will begin to immediately benefit from launching your shiny new website.
Are You Considered High Risk for a Merchant Account?
In life, it's all about who you know. When you need a good mechanic, lawyer, accountant, doctor, etc., it's almost always better to have a trusted resource to lead you in the right direction and get you in good hands. This mantra is directly applicable to a high risk merchant account.
10 Shocking Statistics About Small Businesses
These are 10 impressive statistics in regards to small businesses. Look and see how you stack up.
A Quick Guide to Improving Conversion Rates of Your Landing Page
Clients often seek advice on the best practices for boosting their conversion rates on their websites. Our answers typically revolve around landing page designs and layouts. Site analytics should help clue you into which pages are not proving as effective with CRO, so try to pull those up and quickly assess which of the following tactics to implement in order to increase your conversions.


GET A WEBSITE BUILT FOR FREE!
You get a professionally designed website, secure and reliable web & email hosting and unlimited online support absolutely FREE. You even get a 30 day FREE trial of BannerOS, our web content management software.
Learn more
Have a question about doing business online? We really want to hear from you.

We're currently developing an online eBusiness resource center for business owners and entrepreneurs. We want to know what answers you seek to nagging questions on such topics like SEO, Social Media, Email Marketing and other web-based business needs.
Just click the link and submit your question. We'll review all submissions to choose those questions that seem most relevant to everyone's needs.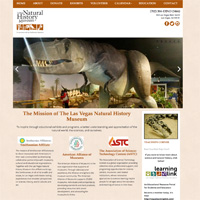 LAS VEGAS NATURAL HISTORY MUSEUM
From the desert to the ocean, from Nevada to Africa, from prehistoric times to the present, the Las Vegas Natural History Museum takes young and old alike on a learning adventure around the world.

Visit their website
Friend or Follow Us on your favorite Social Network. You'll find BannerView.com there providing advice, commentary and the occasional sarcastic remark.




The future has arrived! Website management with BannerOS 2.0 provides business owners with the ability to easily manage their online presence. User-friendly yet powerful, BannerOS is your complete business solution to website success.
Get Your Website Powered by BannerOS!