July 28, 2015 - Las Vegas
The Mobile Web Experience is Getting Worse
I'm calling for the resignation of every website owner currently providing some of the more popular websites. To their webmasters, please turn in your Parker Brothers certification to the nearest authorities. You've all flunked the one aspect every website should have; a pleasant mobile experience.
Kick Your 'To-Do' List's Ass. The Importance Of Time Management
Part of a healthy and happy work-life balance includes knowing how to make the most of your time. Time is money, but it is so much more. Sure, you'll be able to make your company more money with proper use of your time, but you'll also be helping yourself as well. This is why skills in time management are so important.
7 Basic Landing Page Essentials for Conversion
Much like Elmer Fudd tracking that 'wassically wabbit' tracking conversions can be just as elusive. Analytics offers a helpful dose of data, but it requires a solid foundation and a commitment to the process. Here's where to start.
Too Young to Lead? Millennials are Changing Supervision and Technology!
As Baby Boomers leave the workplace at a rate of nearly 12,000 per day, the vacuum created by their exodus includes front-line supervision and management positions. The leading edge of the millennial generation (Generation Y born between 1981 and 2000) is stepping up and into new roles as the boss.


NEW! BUILD YOUR OWN WEBSITE... FOR FREE!
The DIY (Do It Yourself) website builder is an entry level offering for anyone wanting a basic website to start.
You'll can choose from a library of pre-designed layouts. Y
ou can minimally customize elements like color palette and choose layout variations. Plus, your website is powered by BannerOS.
Learn more
Have a question about doing business online? We really want to hear from you.

We're currently developing an online eBusiness resource center for business owners and entrepreneurs. We want to know what answers you seek to nagging questions on such topics like SEO, Social Media, Email Marketing and other web-based business needs.
Just click the link and submit your question. We'll review all submissions to choose those questions that seem most relevant to everyone's needs.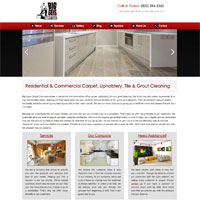 BIG GUYS CARPET CARE
Big Guys Carpet Care specializes in residential and commercial office carpet, upholstery, tile and grout cleaning.

Visit their website
Friend or Follow Us on your favorite Social Network. You'll find BannerView.com there providing advice, commentary and the occasional sarcastic remark.




The future has arrived! Website management with BannerOS 2.0 provides business owners with the ability to easily manage their online presence. User-friendly yet powerful, BannerOS is your complete business solution to website success.
Get Your Website Powered by BannerOS!