August 26, 2015 - Las Vegas
Because of Ashley Madison, Security is Now Your #1 Concern
How's that cheap, open-source website with unsecure web hosting working out for you? Feeling safe? No? Too bad. Unfortunately, it's only going to get worse.
Goodbye Twitterverse
I quit Twitter. After more than five years using the service, it was time for me to drop the only social network I regularly used.
The 3 Necessary E(vil)s of Internet Promotion
E's or Evils. Perspective brings clarity when dealing with an ever-changing digital marketing landscape. Rather than debating the nature of evil in the world, let's discuss the three necessities of successful Internet promotion.
We Build or You Build: Trends in Web Design
The web design industry hasn't been around very long, yet change has been constant. From static text-heavy pages to interactive animated portals, your website has the beginnings of a personality. Now, we examine the latest trend in web design.


NEW! BUILD YOUR OWN WEBSITE... FOR FREE!
The DIY (Do It Yourself) website builder is an entry level offering for anyone wanting a basic website to start.
You'll can choose from a library of pre-designed layouts. Y
ou can minimally customize elements like color palette and choose layout variations. Plus, your website is powered by BannerOS.
Learn more
Have a question about doing business online? We really want to hear from you.

We're currently developing an online eBusiness resource center for business owners and entrepreneurs. We want to know what answers you seek to nagging questions on such topics like SEO, Social Media, Email Marketing and other web-based business needs.
Just click the link and submit your question. We'll review all submissions to choose those questions that seem most relevant to everyone's needs.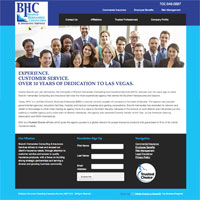 BRANCH-HERNANDEZ CONSULTING & INSURANCE SERVICES
BHC is a certified Minority Business Enterprise (MBE) a premier minority supplier of insurance in the state of Nevada. The agency has ensured governmental agencies, education facilities, hospital and medical companies and gaming corporations.

Visit their website
Friend or Follow Us on your favorite Social Network. You'll find BannerView.com there providing advice, commentary and the occasional sarcastic remark.




The future has arrived! Website management with BannerOS 2.0 provides business owners with the ability to easily manage their online presence. User-friendly yet powerful, BannerOS is your complete business solution to website success.
Get Your Website Powered by BannerOS!