September 30, 2015 - Las Vegas
Instantaneous Marketing with Instagram
If you're hesitant at adding another social media network to your marketing mix, fear not. Instagram may be the easiest and most effective marketing platform to pursue.
Discover Your Secret Formula
Whenever we want to solve a problem, make a change, achieve a victory or even make an iced tea, there's usually a formula to follow. As business owners and entrepreneurs, we seek out and apply these formulas in the hope they provide us success. The question is, how do we discover the RIGHT secret formula?
Apple and the Public's Perception of the Tech Giant
Another Apple event has come and gone. With it, so has almost everyone's fascination with the tech giant. Why is that? For business owners, that should actually be good news and here's why.
How Do Email Marketing Analytics Help You?
If you've avoided using email marketing up till now, I'm hoping this short story about a recent success gained from data analysis will change your mind.


NEW! BUILD YOUR OWN WEBSITE... FOR FREE!
The DIY (Do It Yourself) website builder is an entry level offering for anyone wanting a basic website to start.
You'll can choose from a library of pre-designed layouts. Y
ou can minimally customize elements like color palette and choose layout variations. Plus, your website is powered by BannerOS.
Learn more
Have a question about doing business online? We really want to hear from you.

We're currently developing an online eBusiness resource center for business owners and entrepreneurs. We want to know what answers you seek to nagging questions on such topics like SEO, Social Media, Email Marketing and other web-based business needs.
Just click the link and submit your question. We'll review all submissions to choose those questions that seem most relevant to everyone's needs.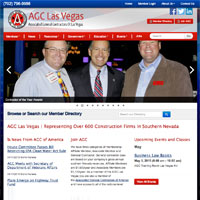 AGC Las Vegas
Membership includes construction project owners and developers, general building contractors, general engineering contractors, construction managers, specialty contractors and subcontractors, equipment and material suppliers and industry-dependent businesses.

Visit their website
Friend or Follow Us on your favorite Social Network. You'll find BannerView.com there providing advice, commentary and the occasional sarcastic remark.




The future has arrived! Website management with BannerOS 2.0 provides business owners with the ability to easily manage their online presence. User-friendly yet powerful, BannerOS is your complete business solution to website success.
Get Your Website Powered by BannerOS!