November 25, 2015 - Las Vegas
SEO, I Know: Frustrations of the Beginner
SEO, I know, right? You hear about it all the time, but know very little in details. It's almost like an urban myth, yet exist it does. Important, it is. Frustrating, it very much can be. Can it not be? Read more
3 Things Every Business Should Include in its Strategic Planning
Strategic planning is a phrase that may seem daunting to some, but it is a necessary part of every business. To make the process of strategic planning less stressful, there are a few things you should include and review before moving forward. Here are three of the most important things every business should include in its strategic planning. Read more
Oil to IT? Don't Let Your Website Bust!
If you're like most people, you are probably wondering about the title by going… what? Read more
Finding Time to Promote Your Business
We have no time for anything, least of all marketing. I've heard just about every excuse; "I've a business to run. Who has time for marketing?" or "Yeah I'd promote, if I had the staff to do it." Unfortunately, you need to make time and here's how. Read more


NEW! BUILD YOUR OWN WEBSITE... FOR FREE!
The DIY (Do It Yourself) website builder is an entry level offering for anyone wanting a basic website to start.
You'll can choose from a library of pre-designed layouts. Y
ou can minimally customize elements like color palette and choose layout variations. Plus, your website is powered by BannerOS.
Learn more
Have a question about website? We want to hear from you.

We're currently developing an online eBusiness resource center for business owners and entrepreneurs. We want to know what answers you seek to nagging questions on such topics like SEO, Social Media, Email Marketing and other web-based business needs.
Just click the link and submit your question. We'll review all submissions to choose those questions that seem most relevant to everyone's needs.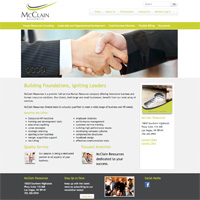 MCCLAIN RESOURCES
McClain Resources is a premier full service Human Resource company offering innovative business and human resources solutions.

Visit their website
Friend or Follow Us on your favorite Social Network. You'll find BannerView.com there providing advice, commentary and the occasional sarcastic remark.




The future has arrived! Website management with BannerOS 2.0 provides business owners with the ability to easily manage their online presence. User-friendly yet powerful, BannerOS is your complete business solution to website success.
Get Your Website Powered by BannerOS!