September 2019
Greetings Valued Subscriber:
Warning! Your Website has a Data Leak. Don't Expose your Website Visitors' Privacy
Nearly every time you visit a website your data is being gathered, not only by the website you visit, but by third parties. Most of the time, these website owners have no idea your data is being shared with third parties. If you find a cool tool which requires you to install a "snippet" of code from a third party to embed the tool onto your website, you are guilty of exposing your visitor's data to third parties.
6 Ways To Push Negative Information About Your Brand Down In The Search Results
There is no one-size-fits-all solution when it comes to managing negative information about your brand in the search engines. A few key tips, however, can help you work to improve your company's reputation online.
Why Online Marketers Should Be Using Instagram
Instagram is a powerful social networking service that helps users capture photos and short videos. There's a lot of room for growth and opportunity for you to reach your target audience immediately and convert Instagram users into subscribers, traffic, and sales for your business.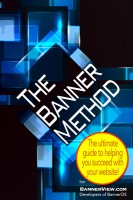 ---------
PRODUCT SPOTLIGHT
---------
The BannerMethod eBook
GET MORE WEBSITE TRAFFIC FOR $99.95
Discover how to increase your visibility on search engines, generate more traffic to your website and boost sales!
Learn more
---------
BannerOS Powered Website Spotlight
---------
Friend or Follow Us on your favorite Social Network. You'll find BannerView.com there providing advice, commentary and the occasional sarcastic remark.




BannerOS provides business owners with the ability to easily manage their online presence. User-friendly yet powerful, BannerOS is your complete business solution to website success.
Get Your Website Powered by BannerOS!