Our History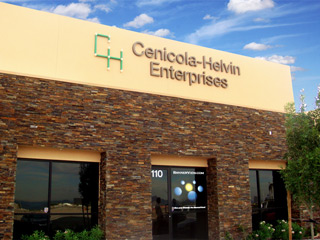 What would cause a company to transform from an Antiques Roadshow online into one of Nevada's most prominent website development and eBusiness providers? For Mark Cenicola and Jeff Helvin, it was a combination of legal red tape and a dot-com depression that forced a 180 onto the two budding entrepreneurs.
Initially conceived in 1999, the idea was to offer a fixed cost alternative to eBay, where they'd purchase items from yard sales and sell it for a profit online under the name, YardSaleNet.net. They'd even gone so far as to empty out a room in the Helvin household to stock their newly purchased inventory. Unfortunately, the laws requiring extensive background checks and copies of the previous owner's drivers license made purchasing the items difficult, forcing them to revise the project into something similar to Craigslist. With the height of the dot-com bust looming and funds running low, it would seem that the business was marked for failure. Luckily, the catalyst for the birth of BannerView.com was just around the corner, and from an unlikely source.
People familiar with the industry know that this happens all too often; your website designer goes AWOL when you most need them. The sister of Jeff Helvin, owner of a catering business, was experiencing this exact scenario at the time. Having already incorporated Cenicola-Helvin Enterprises as the parent company, Mark and Jeff decided to use BannerView.com, originally conceived to sell banner ads, as a solution to her website woes (Yes at one time, banner ads WERE part of the picture). Slowly, the company started taking on more projects and soon was building up an impressive portfolio of clients. Adding Joseph Stanley as programmer solidified the foundation upon which the company would focus; mainly, a reliable and respected resource of eBusiness products and services.
Though Cenicola-Helvin Enterprises would go on to develop a number of other entities over the years, BannerView.com remained the brand most profitable. So much so that in 2007, after years of shared and rented occupancy, the now three executives purchased an impressive 1.1 million dollar technologically advanced data center facility in which to house operations and conduct business. The following year, BannerView.com officially became the name under which the company conducts all business, further positioning themselves as THE resource for all eBusiness needs.
What We Do
BannerView.com is a full service specialist in website development, management and marketing with a focus on small to mid-sized businesses. Twelve years-old, BannerView.com is one of few companies that has developed and offers a proprietary website-building system and software which integrate to help businesses generate business on their websites. The company is headquartered in Las Vegas, Nevada and services national and local businesses. BannerView.com is a Cenicola-Helvin brand.
What We Offer...
Our Operating Platform and Add-On Product Services:
BannerView.com is one of few companies in the United States that has developed and offers a proprietary website-building platform named, BannerOS™ and compatible website product services named, BannerGrips™, which integrate together in meeting the demand of a business wishing to use the Internet as a portal for developing and growing its business. Read testimonials from satisfied BannerView.com clients...
Customer Protection and Programming Integrity:
Compatible Coding and No Third Party Service Glitches:
BannerOS and its BannerGrips use consistent and compatible coding, all are W3C (World Wide Web Compliant). The consistent and compatible coding ensures against the program integration challenges typical of when a website uses several third party products/services.

Secure Data Center, Encrypted Backups, Virus and Spam Protectors:
BannerView.com has a self-owned and operated secure data center facility with daily onsite and weekly off-site encrypted backups. Its data configurations are designed to mitigate against and protect our customers from viruses and spam.

Server Disabling Defenses:
Unlike other website management companies who overpack their servers with customer accounts which can cause the disabling of a customer's website operations, BannerView.com limits the number of customer accounts its individual servers accommodate in order to minimize such risk and business interruptions to its customers.
Service:
24/7
Emergency support upon request
An experienced team at the ready to support you
A corporate culture dedicated to the, "customer comes first." When you call or email, you get the attention and courtesy of a real human being...an experienced member of our team.
Project follow-ups are turned around within one business day
Selection of Web Hosting and Maintenance Programs designed to support your website

Experience:
Executive management team with over 30 years of combined experience in website operations
Over 12 years in business. Established in Las Vegas, Nevada in 1999 by co-founders, Cenicola-Helvin Enterprises.