Get a website built and powered by BannerOS
Turn your website into a powerful business tool with BannerOS and get a professionally designed website for FREE! This special offer can save you over $1,000 compared with hiring a website designer. We'll build your website for you when you try BannerOS. Custom designed, mobile-ready & operational in as little as 72 hours. 


Spend time benefiting from your website, not wasting time building it!


Save over $1,000 versus hiring a web designer! Pay nothing up front and try out your new website risk free.


BannerOS is only $19.95/mo after the 30 day free trial.


Add functionality like lead generation forms, email marketing, ecommerce & more starting at just $9.95/mo.


Save even more money because website and email hosting is included!

Review the frequently asked questions below and if you still have questions, contact us for more information.

Look at the benefits that you get...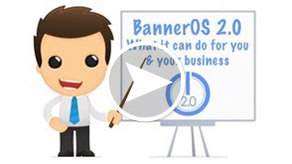 Play the video to learn more.
Website Powered by BannerOS can help grow your business.
FREE Professional Website Design optimized for MOBILE devices saves you money.
FREE Website & Email Hosting in our secure data center (see full website hosting details) saves you hassle.

Plan V-050 Value Class Hosting - Includes 500 MB of storage, 5 GB data transfer, unlimited POP3 accounts and website traffic statistics. Additional usage beyond the allocated amounts will be billed in accordance with current charges in effect at the time of overage. Upgrades to higher

website hosting plans

are available at checkout.

FREE Unlimited Support via Web & Email to help you maximize your results.
FREE to Try for 30 Days! - Your first payment will be charged 31 days from today.
We do all the work! - We'll add up to 10 pages of content that you supply. We give you up to 30 days to send us your content.
Easily maintain your website after we build it! - Add as much content yourself at any time.
~ cancel at any time ~



No Money Down 


~ nothing to lose ~
We Have Your Questions Answered!
Q) How long does it take to build my website?
A) The process takes about 20 to 30 minutes for you to fill out the questionnaire about your business. It then takes as little as 72 hours for our team to construct your website based upon your answers to our questionnaire.
Q) What kind of questions do you ask?
A) We ask basic questions about your business, preferences in regards to color and pages you want to have on the website. The process is quick and usually only takes about 20 to 30 minutes.
Q) Is this a generic website template or a custom designed website?
A) We've been designing websites since the year 2000 and have the experience necessary to build you a professional website. Our team has developed a number of layouts based upon the most current design standards. We customize these layouts to fit your specific business so that you have a unique and custom designed website to professionally represent your organization.
Q) How can you build a website for FREE and offer such a low monthly fee?
A) Over the years, we've streamlined our processes so we can quickly develop a professionally looking website. We have a professional team of web developers with many years of experience and we specialize in building software quickly and efficiently. This allows us to service customers at a very affordable cost.
Q) Will my website be search engine friendly?
A) BannerOS was built with Search Engine Optimization (SEO) in mind. It includes all the tools you need to ensure your website complies with the latest standards the search engines require for maximum place opportunity on the major search engines. BannerOS powered websites perform very well on the search engines. We do offer an advanced Website Optimization package.
Q) I don't have all my content written, should I wait to get started?
A) It's okay if you don't have content written for your website. We can proceed immediately by building the website and since we give you up to 30 days to send us content, you have time to write your content after the website has been built. As long as you send it to us within those first 30 days, we'll add it to the website for free. Don't worry if you go past 30 days and still need to add content.  With BannerOS adding, editing and deleting content can all be done easily yourself.
Q) What happens after my website is built and all content is added?
A) When you're ready to launch your website, it's as easy as adding a domain to your account. If you need help registering a domain name or transfering a name from another provider, our support staff can assist with you the process.
Q) Do I have to build my own website?
A) Absolutely not! We do all of the building and adding of your content (up to 10 web pages supplied to us within the first 30 days) for you. After the website is built, you have the ability to add, edit and delete content on your own using BannerOS.
Q) What are BannerGrips?
A) BannerGrips or "Grips" for short, are add-ons to BannerOS that enhance the functionality of your website. From blogging to email marketing to ecommerce, Grips can help you maximize your business prospects and increase the revenue opportunities your website can provide.
Q) What will my website look like?
A) Your website will be built to fit your unique business needs. You'll have a professional looking website customized to match your existing branding with the content you provide. Your website will be developed using modern techniques supported by the majority of current Web browsers and Internet technology. Since we've been developing websites for more than a decade, you can rest assured you'll have a beautiful website that will be user friendly and represent your business professionally. Please review our portfolio of web designs to see websites we've built for others.
Q) What if I don't like the way my website looks when I get it?
A) If you're not happy with the way your website turns out, just let us know and we will make a few edits taking your feedback into consideration. We can only do this once, so if you're still not satisfied with your new website, then you are able to cancel at any time without any further obligation.
Q) Can I use my own custom domain name?
A) Yes, you can use your own custom domain name. For example, you can have yourdomain.com including email addresses @yourdomain.com since email is included with every package. While we're building your website, we'll provide you with a unique URL - username.bannerview.com.
If you currently have a domain name registered, we can help you point the DNS servers appropriately when you're ready. We can also help you register a domain name with .com's for only $14.95/year. We support many domain name extensions such as .net, .info, .biz, .org, .me, etc.
Prices vary based upon the requested extension.
Q) What happens if I want to cancel my website?
A) You are not locked in to any contract, therefore, you are able to cancel your website at any time without any further obligation. If you cancel, you will not be billed any further for BannerOS, upgrades or Grips. Your website will be shutdown and your email will no longer work. If you registered a domain name with us, you may continue to keep the domain registered with us or transfer it to another provider. No refunds will be issued for services already billed.
Q) What if I already have a website built that I like?
A) In many cases, we can match your existing website design and transfer the content over to BannerOS. Please contact us with a link to your existing website so we can further discuss your requirements if you have questions beforehand about the process.
Q) What if I have more than 10 pages?
A) No problem, you can always add more content at any time on your own for free. Or, if you'd prefer to have our professional developers create extra pages for you, it's just a one time fee of $25 per additional page as part of the setup process. Simply add additional pages during checkout.
Q) What if I already have hosting somewhere else, or my own dedicated server?
A) No worries, BannerOS works with common hosting software such as Linux, Apache, PHP and MySQL. As long as your server meets the requirements listed here, we can install your new Website and BannerOS on your own Web host or dedicated server.
Q) Why do you ask for a credit card if I can try this offer for FREE for 30 days?
A) We will automatically bill your credit card on file after the free trial period if you wish to continue. You can cancel at any time prior to the expiration of the free trial period and your card will not be charged.
Q) If my card won't be charged until after the free trial period, why is there a $1.00 pending transaction showing on my account?
A) In order to verify that your card is valid, we preauthorize a charge for $1.00, then void that transaction. This charge will disappear usually within 24 to 48 hours, but rest assured that your card will not actually be charged until the trial period is over.
How Does It Work?
72
hours
It's simple. You select BannerOS and the add-on Grips you want. We ask you some questions about you and your business and we go to work building your website.
It should take you only around 20 to 30 minutes to fill out the questionnaire. Your website will then be built in as little as 72 hours.
You have up to 30 days to send us content to fill up to the 10 pages on your website. It usually takes a couple of days for us to add this content on your behalf.
Remember, you can always add, change, delete content via BannerOS at any time on your own.
What they say about BannerOS...
"When we upgraded our website to the new BannerOS, our website took on an entirely new existence."
Robert Snyder, CFO
Big Dogs Brewery
"Flangas McMillan Law Group uses the [BannerOS] system to make simple changes to our website and find that it is very user friendly."
Darcy Braun, Office Manager
Flangas McMillan Law Group
BannerGrips included with your BannerOS free trial.
BannerGrips can enhance the functionality of your website by adding features including blogging, email marketing, event registration, payment processing, member registration, photo galleries, surveys, lead capture, daily deals, file storage and sharing, e-commerce, calendars and marketing campaign management.
Take Advantage of This Valuable Offer