(02/22/2012) Mark A. Cenicola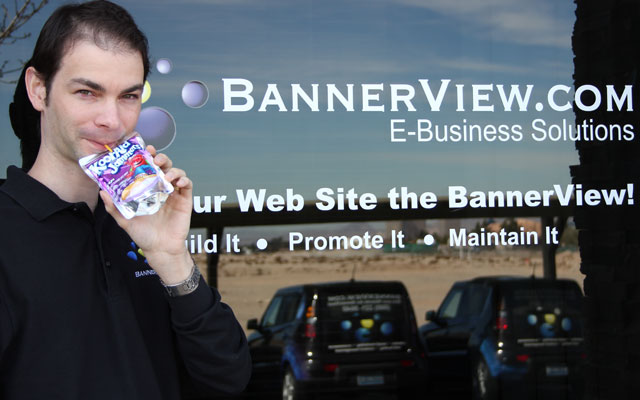 Since the launch of our website management platform, BannerOS in 2009, we've been touting the benefits of the platform.  In 2010, we hit a milestone with over 100 installations which made up a quarter of the websites we managed.
However, there was one big problem.  We weren't drinking our own Kool-Aid.  What I mean is that our own BannerView.com website wasn't running on BannerOS.  How could we be pitching a product that we didn't even use ourselves.  Don't worry, it wasn't because we didn't believe in the platform, but was because the BannerView.com website had become so complex that many of the features we needed weren't yet available.
By 2011, we had gotten to a point where it was painful NOT using BannerOS because the platform had matured to a point where it made managing websites so much easier and better than the old system we had in place.  Many of our staff had been clamoring to move the BannerView.com website to BannerOS, but we were stuck due to a customized billing solution we had built that runs our entire operation.
Luckily, by late 2011, we had a plan in place to move the front facing part of the BannerView.com website to BannerOS while we could still utilize the custom billing system on the back-end.  At the same time, we knew we had to simplify the design of the website and make information flow more logically which should result in better conversions of visitors to customers.
Reorganizing a website with a thousand pages of content created over a 12 year period and splitting the core features into two disparate systems that work well together was no easy task.  As of last Friday, we were able to pull it off.  
While there are going to be some bugs to squash and gradual changes working themselves into the website, the hardest part is mostly completed.  Yet, the most exciting part has barely begun.
We will now begin leveraging the functionality of BannerOS the same way that many of our customers have been over the last few years.  We have the opportunity to see what our customers see by us using the product in a live production environment.
This will help us continue to improve on a product that we built as one we've always wanted to use ourselves.  As we continue migrating existing customers over to the platform and commit to only on-boarding customers that choose to run their websites on BannerOS, we feel we've identified the ingredients needed to turn a good product into a truly great product.
Knowing how critical a tool our website is to running our business and the sophistication of our requirements, means that if we can make the switch, so can the majority of small to mid-sized businesses.  If you want to use your website as a tool to increase your business prospects and revenue opportunities, there's never been a better time to make the switch to BannerOS.  
Join us for a Kool-Aid toast.  We have your favorite flavor!