---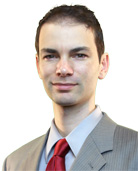 Mark A. Cenicola is responsible for the company's vision, direction, and general health. As Chairman, President & CEO he must make sure that an environment is created in which everyone from customers to employees to investors are given the resources they need to prosper and benefit in their relationship with Cenicola-Helvin Enterprises, the parent company of BannerView.com.

Topics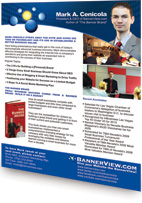 OneSheet
Mark Cenicola strips away the hype and gives his take on technology and its use in establishing a better business online.
Hard hitting presentations that really get to the core of today's technologically advanced business economy, Mark demonstrates effective strategies for integrating the Internet into a company's operations and giving their website an expanded role in contributing to the success of their business.

Featured Guest Blogger on the
Following Online Publications
---
Speaking Experience
Using Blogging, Email Marketing and Twitter to Build your [Personal] Brand

- National Association of Pet Sitters Annual Conference

Panelist: Beyond Expectations Marketing BLAST OFF 2012

- Urban Chamber of Commerce

Maximizing Viral Returns

- Digital World Expo 2011
Authorship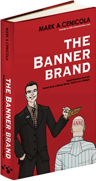 In his business book, "The Banner Brand," Mark A. Cenicola takes you on his personal journey of how he applied the fundamentals of brand strategy and guerilla marketing as critical defenses in fighting the competitive landscape characterized by small business.